About the Oxford Free Public Library
In 1902, The Town of Oxford was granted cash from former Oxford resident, Charles Larned, in hopes of building a Free Public Library in memory of his mother, Clarissa Larned. Thus, building began of the Charles Larned Memorial Library on the former Hyde lot, a piece of land voted on by the citizen's of Oxford. Construction of the building was completed in 1903, and the Library was open to the public.



​
Perhaps the most notable piece of architecture in the early part of the building would be its stained glass window at the top of the stairs in the front foyer. The image depicts the arrival of the Pilgrim's in Plymouth from Holland, and the caption reads "Let there be light." In the original design of the building, there was a "stack" area beyond the former circulation desk, now the reference desk. This area is well known among Oxford citizens whom used the library prior to 2000, mostly because of it's unique glass floor and dumbwaiter.

​
In 1985, librarian, Timothy Kelley was appointed. It wasn't long afterwards when in 1995, it was proposed that the library receive a refurbishing and an addition. Thus, the expansion of the Oxford Library began. The original stack area with it's glass floor was razed to make room for the current circulation and stack areas. The children's room was also completely overhauled, with a bay window and brand new toys - a project headed by former Children's librarian and now retired Charlton Public Library Director, Cheryl Hansen. The grand opening of the new addition to the library took place in April 2000.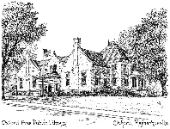 ​The library has approximately 8,274 current patrons, with about 3,000-4,000 circulations a month in the adult circulation department alone.
---
Directors:

Stella Bullock
1882-1891
Larry C. Spongberg
1976-1980 (picture unavailable)


Clara A. Fuller
1891-1920

Gloria Edinburg-George
1980-1985

Harriet B. Kilton
1920-1956

Timothy A. Kelley
1985- 2016


John Tucker 1956-1962


Morgan Manzella
2016

Francis G. Howarth
1962-1976


Brittany McDougal Bialy
2017-Present


​

































---
Children's Librarians:
| | |
| --- | --- |
| Lida Larkin | 1951-1963 (unsure of end date) |
| Barbara Bressler | ?-1978 |
| Elaine Wellwood | 1978-1994 |
| Cheryl Hansen | 1994-2003 |
| Catherine Livingstone | 2003-2011 |
| Amanda Thornton | 2011-2012 |
| Deborah Bilis | 2012 - Present |
​**Please note, our Children's Librarian list is incomplete due to lack of records. If you know the names of any of the Children's librarian's prior to Ms. Bressler, please let us know!
---