Digitized Vital Records
Available online
From the New England Historical Genealogical Society, digital records of vital statistics
https://www.americanancestors.org/databases/massachusetts-vital-records-1620-1850/image?
https://www.americanancestors.org/search/databasesearch/190/massachusetts-vital-records-1620-1850

From the State Library of Massachusetts
https://www.mass.gov/doc/list-of-vital-records-to-1850/download
---
Genealogy- Ancestry Library Edition & Heritage Quest
Please click on one of the links below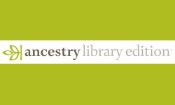 The link for Ancestry Library Edition is only accessible within the library. You don't need to use your library card, as long as you access it at any of our 16 public computers.






The link for HeritageQuest is accessible at the library, as well as at your home. While accessing the database remotely on your home computer, you will need your Oxford Public Library card. Upon entering your card number, you will be able to search the database.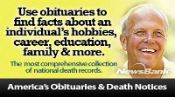 Use NewsBank's online database for America's Obituaries & Death Notices to find facts about an indiviudal's hobbies, career, education, family & more.








---